The hardest part about Bhajis is finding a place that sells gram flour. Most supermarkets don't, but you can luck out at alternative foods, ethnic grocers, health food shops, hippy markets, etc. Lots of times it is called "garbanzo flour" or "chicpea flour" since its made out of that.
You'll need about a cup of the stuff, give or take.
Now get an onion (I use red but any decent sized one will do) and chop it up into thin strips. Set those aside. Take one or two green chiles, remove the seeds, and chop them finely. Crush about two or three teaspoons of corriander seeds in a mortar & pestle or a grinder if you have that.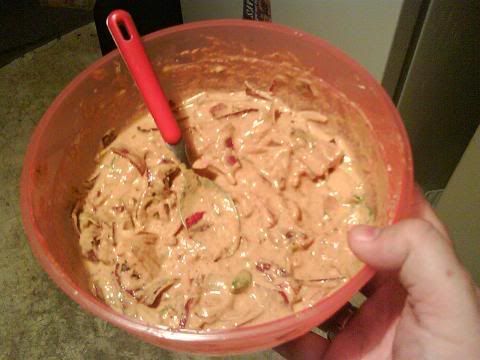 Now put your flour in a mixing bowl and add to that a teaspoon of cumin, teaspoon of turmeric, teaspoon of chili powder, teaspoon of salt, and half a teaspoon of cayenne pepper. Pour some cold water on that gradually, until it is a muddy consistency. Test this by pouring your veggies into the bowl. If the stuff coats and clings to the veggies but still stirs about like a semi-liquid, you're good to go.
Take a deep saucepan or skillet and get a good half inch depth or so of oil - preferably canola. Get the oil heated up, and start taking small spoonfulls of the veggie batter and spooning them into the oil. They'll form these blobby looking things.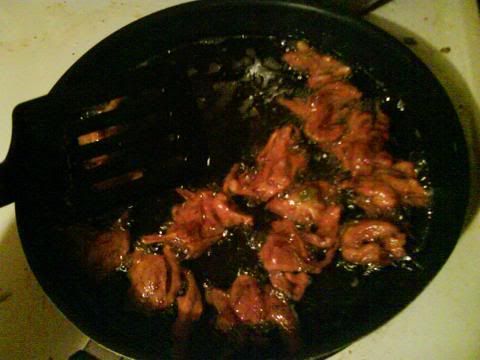 Because gram flour is a darker flour than most, and because the cumin, turmeric, and chili powder will make it appear even darker, you want these to go a little bit beyond golden brown before you take them out of the oil. I say kind of a copper I guess. It's easier to just post a picture of the final product:
As you can see, one onion makes a stupid huge amount of food. These are great with any manner of chutney. My wife really likes hot mango chutney, and I myself fancy cilantro chutney. Both are excellent.